Because most of the Coastal Bend is in a hurricane prone area, you may be wondering if your solar system can withstand heavy wind and rain? Solar systems are designed to withstand extreme weather conditions including high winds, hail and heavy rain.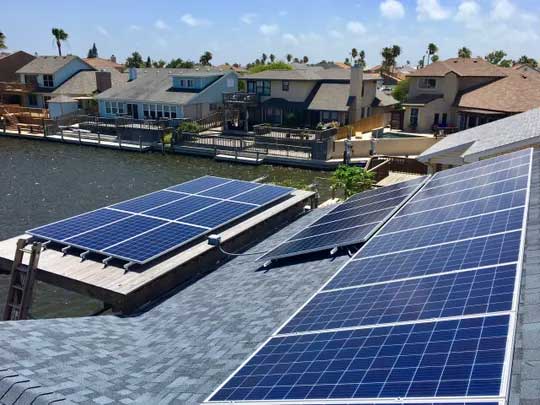 The big concern with solar panels on a roof is wind and water damage from extreme events such as hurricanes. Most solar panels are manufactured to withstand 140 mph wind with aluminum and glass casing that is highly waterproof (1). Each municipality requires the solar system to withstand certain wind speeds. For example, most of the Corpus Christi area requires the solar system to be windstorm certified. We work with our engineering team to make sure your system will withstand high wind speeds of up to 140 mph. The panels are mounted directly onto your roof beam and we make sure no leakage will occur. Not only will your solar system withstand heavy hurricane winds, but it will also act as reinforcement for your roof, protecting it from being damaged or completely blown away (2). The panels also act as a protective layer from heavy winds and hail damage.
Hurricane Harvey had generated wind speeds up to 134 mph. Before Harvey hit we installed solar panels on an apartment building. The only roof in the entire complex that was still in-tact was the one with our solar panels. Take a look below!
Hurricanes can also cause power outages. If your system is connected to the grid, it will turn off during the power outage. It does this to prevent electricity from feeding back onto the grid while workers are out trying to fix it (3). There are two ways to power your home during a power outage, battery storage or a generator. Luckily, we can install either for you! If your solar panels do have damage, please do not try to repair the system on your own, it can be very dangerous.
Overall, we make sure your solar system is designed to withstand hurricanes, so no need to worry about the next time heavy winds and rain come your way! Give us a call at 361-360-1800 or book today to schedule your FREE energy consultation whether it be for solar panels or a generator!
(1) https://news.energysage.com/solar-panels-hail-hurricanes/
(2) https://atlantickeyenergy.com/are-solar-panels-safe-in-a-hurricane/
(3) https://www.solarpowerrocks.com/solar-questions/happens-solar-panels-hurricane/